Hey guys! I have an update on what to expect this year in the Atlantic for the hurricanes this year!
Dude, bring us an ENSO update!
The model "ECMWF" that stated before that "there was going to be an El Nino this August/September/October" has now updated their forecast and are now trying to say that "we are going to have a neutral period," meaning that we are going to have more storms forming this peak of the hurricane season.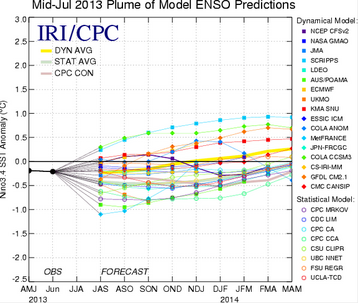 According to ALL Mid-July 2013 ENSO prediction models, they are all anticipating that the ENSO state will be NEUTRAL until the end of this year. However, with warmer-than-usual sea temperatures, the storms may be stronger than usual by the time August has arrived. Frankly speaking, this August/September, we are probably going to see lots of Category 3s and 4s that are going to take a long time to form. 
How the season is shaping up.
As I'm writing this, we are currently on the name Dorian (stop looking in that mirror, Gray!). If he is taking long to develop, as most models are predicting, then this means that he may not come until about August 1st. Therefore, this means we are probably going to see the storms Dorian, Erin, Fernand, Gabrielle and Humberto (guaranteed!) this August (and if we are lucky, Ingrid and possibly Jerry, JERRY, JERRY) could come that month too. It seems like Humberto could take the place of the "all-terrifying I storm" as many forecasts and models predict SLOOOOW development this season. So what about Ingrid? IMO, she is still going to be an evil, terrifying storm like what I'm thinking for Humberto right now, but now I'm not sure what category strength I'm thinking for her right now because of unusually slow development. Karen, all the way to probably about Olga would come this September, and we'll probably wrap up the season with Van, then, JINGLE BELLS, Christmas has come. 2014 will be an inactive season if this year is a doozy.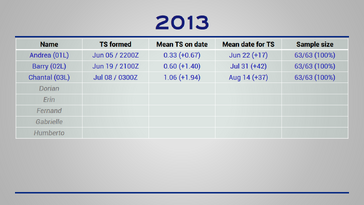 On the graph on the right (courtesy of storm2k) you can see that the season obviously had an early-ish start on June 5. Chantal formed on July 8. Now it is July 21 (depending on where you live because it might be the 22nd if you are reading this in New Zealand.) We are well ahead of the mean date for a storm. This season is rather reminiscent of 2010/11, and we could even see a 2004/5/8 on the cards! HECK YEAH!
A high ACE is expected as I am thinking of a Category 5 storm (Humgrid?) and several 3s and 4s. Look at Fababel of 2003, Ivan of 2004 and Katritma of 2005. They all produced excessively high ACEs. 
Conclusion
So this year, here is my final update:
Named storms: 20-ish.
Hurricanes: 10
MASSIVELY INTENSE MAJOR HURRICANES >:O: 5
ACE index: 180
Picture to sum up the whole season: 
Ad blocker interference detected!
Wikia is a free-to-use site that makes money from advertising. We have a modified experience for viewers using ad blockers

Wikia is not accessible if you've made further modifications. Remove the custom ad blocker rule(s) and the page will load as expected.