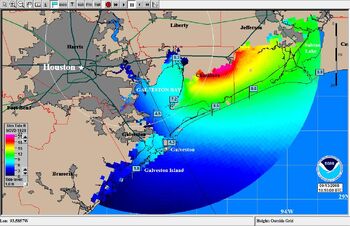 The Sea, Lake and Overland Surges from Hurricanes (SLOSH) program is a computer model developed by the National Weather Service to evaluate storm surge heights posed from historical and hypothetical hurricanes based on factors including pressure, wind speeds, and heading. SLOSH, which models potential storm surge for 37 coastal basins, is used by the government and emergency management to plan for areas that may potentially be impacted by storm surge.
Computations
Maximum Envelope of Water (MEOW)
The Maximum Envelope of Water (MEOW) computation computes the worst case scenario of storm surge based on a grouping of direction, strength, speed, and tide height. The MEOW is normally used for storms that are forecast to make landfall.
Maximum of MEOWs (MOM)
The Maximum of MEOWs computation is very similar to the MEOW, except that it disregards the heading of a hurricane and only takes into account of the strength and tide height. MOM is normally used for hypothetical storms.