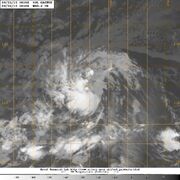 Hurricane Vince was an unusual Category One hurricane of the 2005 Atlantic hurricane season. It was the first hurricane to have to start with the letter V. It formed on October 8, near the Azores and hit the Iberian Peninsula on October 11, dissipating over Spain. It was the first tropical cyclone to impact Spain (although histroical documents claim a hurricane in 1842 made landfall).
Heavy rains and flooding occurred due to Vince even though it was only a Tropical Depression when it made landfall.
Ad blocker interference detected!
Wikia is a free-to-use site that makes money from advertising. We have a modified experience for viewers using ad blockers

Wikia is not accessible if you've made further modifications. Remove the custom ad blocker rule(s) and the page will load as expected.