Hurricane Irwin was a tropical cyclone that formed on October 6, just 6 hours after Hurricane Jova formed. It began its life as Tropical Depression 11-E away from land. As time went on the NHC upgraded the depression into Tropical Storm Irwin. Just a few hours after it was upgraded to a storm, it strengthened into a hurricane. On October 7, Irwin continued to strengthen but then weakened back to a tropical storm late the next day and a few days later, back to tropical depression status. As Jova pulled away, Irwin strengthened yet again, gaining tropical storm status on October 11. It finally dissipated on October 17.
Meteorological history
In early October, an area of showers and thunderstorms associated with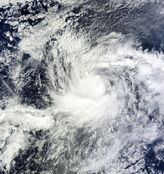 a low pressure area developed several hundred miles to the south of Mexico. Moving towards the west and west-northwest, the low pressure quickly gained organization, and during the pre-dawn hours of October 6, the National Hurricane Center began issuing advisories on newly formed Tropical Depression Eleven-E. Later on October 6, Tropical Depression Eleven-E strengthened to Tropical Storm Irwin, and it became a hurricane the next day. The next day it weakened to a tropical storm. On October 11, Irwin weakened further into a tropical depression due to very strong wind shear, but later strengthened back to a tropical storm.
See also