What's this forum for?
Edit
This forum is for discussion on hurricanes, in the past and in the future. If you are looking for forums on current tropical cyclone news, see the index. If you want to talk about hurricanes the subject, a past hurricane, a remark on a past hurricane, or just a question for hurricanes, this is the place to go. If you want to provide information on a hurricane heading your way, do it in the other forums. Thank you and have fun! CobraStrike (t)(b)(c) 02:49, August 2, 2011 (UTC)
NHC has its own blog now, but it doesn't have much info yet.--Isaac829E-Mail 01:22, May 30, 2014 (UTC)
NHC redesign
Edit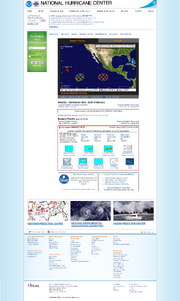 Well, it's somewhat close to this.--Isaac829E-Mail 18:35, July 11, 2015 (UTC)
2016 NHC changes
Edit
Includes advisories for tropical disturbances for possibly 2017.--Isaac829E-Mail 20:51, March 8, 2016 (UTC)
Ad blocker interference detected!
Wikia is a free-to-use site that makes money from advertising. We have a modified experience for viewers using ad blockers

Wikia is not accessible if you've made further modifications. Remove the custom ad blocker rule(s) and the page will load as expected.